26th November, Pio Cesare Wine Dinner
November 19th, 2015

8 ½ Otto e Mezzo Bombana and Pio Cesare are proud to present this precious wine dinner hosted by Mr Cesare Benvenuto, featuring the most iconic wines from Pio Cesare including Borolo DOCG 2000. Join us for a very fine evening combining Chef Riccardo's fantastic cuisine pairing with one of the rarest vintages available in the world.

Thursday, November 26th, 7pm, RMB 1688 net per person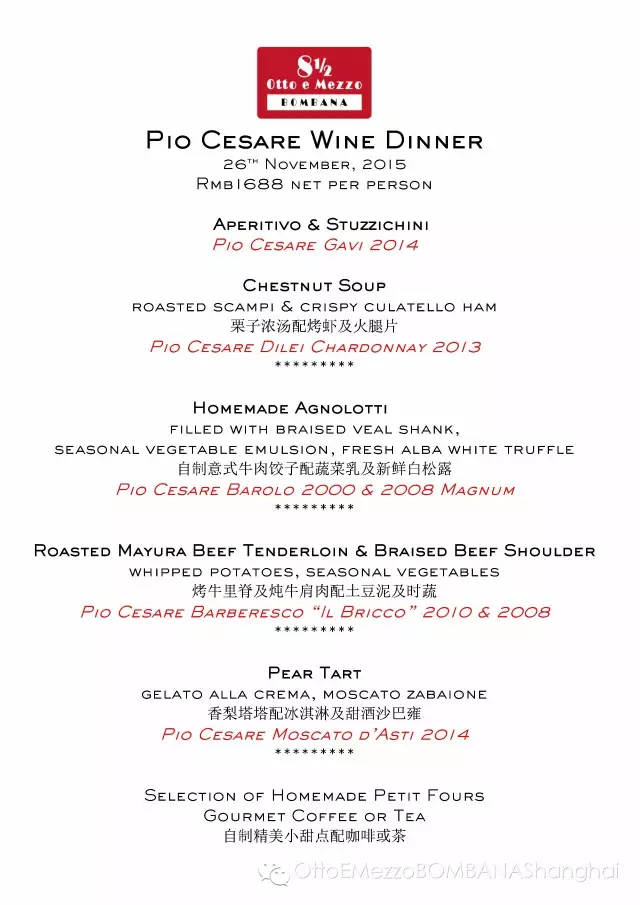 About the winery:
The Pio Cesare winery was founded in 1881 and was one of the very first wine producers to believe in the great potential of Barolo, Barbaresco, Barbera and in the other great wines of Piemonte. Cesare Pio in the second portion of 1800s, was among the very first winemakers to produce these wines with a philosophy that was dedicated to the terroir and the strictest quality of the wine.
For five generations, the Pio Cesare family has been producing traditional Piemontese wines in its ancient cellars, located in the centre of the town of Alba.
The production of the wines of Pio Cesare is intentionally limited in order to maintain their high quality. Year after year, the wines are ranked among the world's best and most highly regarded.